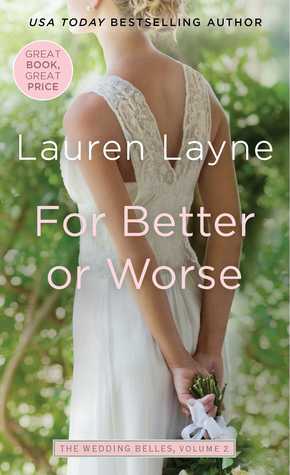 Will a budding wedding planner and her bad boy neighbor stop banging heads and start hearing wedding bells in the sexy second novel in USA TODAY bestselling author Lauren Layne's irresistible new series that marries Sex and the City with The Wedding Planner? When small-town girl Heather Fowler finally gets promoted from assistant to actual wedding planner, she's determined to make it as one of Manhattan's elite Wedding Belles. Unfortunately, her first client demands an opulent black-tie affair at the Plaza…in five months' time. Heather's days quickly become a flurry of cake tastings, dress-fittings, RSVP cards, and bridal tantrums. But what she's really losing sleep over is the live music blaring from her playboy neighbor's apartment all night. Five years ago, Josh Tanner was an up-and-comer on Wall Street, complete with the penthouse and the migraines. But a grim cancer diagnosis made him realize there is more to life than the corner office. If only he could convince his pretty, workaholic neighbor to let loose, too. As Heather lets down her guard, Josh is surprised when he starts falling for the sweet, vulnerable woman hiding beneath those power suits. Soon, it's Heather's turn to convince Josh to take the biggest risk of all: love.
Thank you to Gallery, Threshold, Pocket Books via Netgalley for the free review copy in exchange for my honest opinion!
Oh my gosh, this book was exactly what I was looking for right now! So sweet, romantic, funny, something to put a smile on my face - it was just fabulous!
Both main characters were wonderful, but I have to say it was Josh Tanner who really wormed his way into my heart. After a somewhat rocky start (I really didn't love the first scene between him and Heather - in fact, it had me scoffing and doing the eye roll thing!) I was not expecting to like him so much! But honestly, I dare anyone to read this book and NOT like him - it's impossible! Mostly, Josh acts like a big kid, which can be appealing on a certain level, but not so much to Heather. It drove her absolutely NUTS, which was so funny to see! It may have been lust at first sight, but there was definitely no love between the two of them.
I also really loved the plot for this book, as well. The idea of Heather working so hard to make her way independently in the world made her an empathetic character to me. The idea of an independently wealthy genius of a guy who almost lost his life to cancer and is living every moment as if it could be his last also drew me in. The fact that Josh is a musician on top of all that just makes him even more attractive, in my mind! Will Josh and Heather be able to meet in the middle, compromise somehow, in order to have a future together? Read for yourself to see how "For Better or Worse" pans out, I don't think you'll be disappointed! As for my reading plans, I already have the next in the series queued up - this is definitely one series I don't want to miss a moment of!
My rating: