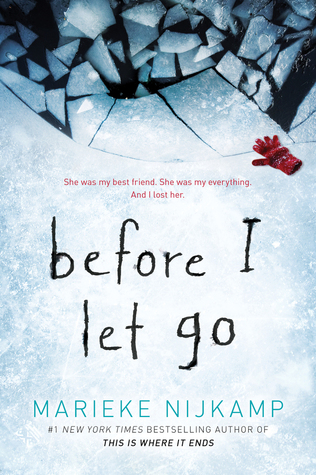 Best friends Corey and Kyra were inseparable in their snow-covered town of Lost Creek, Alaska. When Corey moves away, she makes Kyra promise to stay strong during the long, dark winter, and wait for her return. Just days before Corey is to return home to visit, Kyra dies. Corey is devastated―and confused. The entire Lost community speaks in hushed tones about the town's lost daughter, saying her death was meant to be. And they push Corey away like she's a stranger. Corey knows something is wrong. With every hour, her suspicion grows. Lost is keeping secrets―chilling secrets. But piecing together the truth about what happened to her best friend may prove as difficult as lighting the sky in an Alaskan winter...
Thanks to Sourcebooks Fire via Netgalley for the free review copy of this book in exchange for my honest opinion.
I'm going to be blunt here and just come out and say it - I did not like this book, and I'm hugely disappointed. I read the synopsis, and immediately knew I wanted to read "Before I Let Go". It sounds like it would have everything I love in a book - suspense and mystery, a strong female friendship, a fast-paced plot, and an incredible setting. Obviously, I set the bar way too high, as this book did not deliver in any of these areas, and I feel like I wasted my time.
I'm wracking my brain, attempting to come up with something I liked about this book, but I'm coming up short, and that is really not good. I lived in the Yukon for nearly two years, and I loved it, despite the cold, long winters. I was hoping that by reading a story set in Alaska, I might be taken back, through the author's written words, to a place similar to the one I loved so much. Alas, my hopes were not realized. I think the author intended for the town of Lost to feel atmospheric and creepy, but I did not ever get a clear picture of this town at all. I know it was small, the main industry was mining, and there was a lake (or was it a river?) where Kyra drowned beneath the ice, but that was about it. Oh yeah, there was an abandoned spa adjacent to some hot springs where Kyra and Corey hung out, and where Kyra lived for a while before she died. I think this building was supposed to feel atmospheric and creepy, too, but again, any descriptions that were there were not memorable at all - the author could have been writing about a small town in Idaho or Saskatchewan for all it made me feel. Take it from someone who has lived there, the author definitely did not adequately represent the beauty of the north, in my opinion!
As for the characters, that was another big problem. Even though the book was written from Corey's point of view, I still didn't get a good handle on her. Her dad abandoned the rest of her family, she wanted to become an astronomer, and she was afraid of the dark. I think she played a sport at her new private school, but it was only mentioned once so I forget what sport it was. And she may or may not be gay, but again, it was only mentioned once, so I guess that wasn't too important, either.
Kyra could have been a more interesting character than Corey, but because she was so poorly developed, I didn't get to really enjoy her at all. (Plus, she's dead, so not too much point getting attached.) We're told over and over again about how the town didn't accept her after her diagnosis, and we hear in flashbacks her complaints that she didn't ever fit
in
, so it was really strange to me that once Corey moved away, within a matter of
months
, the entire town of Lost changed their tune and praised Kyra for bringing them all together through her painting. And how, exactly, did Kyra's paintings bring the town together? I have no flipping idea. Really, I'm shaking my head in bafflement, because I truly don't understand how this all came about. I think the restaurant/pub in town had a few of Kyra's paintings on the wall, and somehow this translated into Kyra saving the town. If you are in any way confused by this, trust me, reading the book will not help in the least. Same thing with Kyra's bipolar disorder. I wanted to know more about Kyra's mental illness, and feel what she was feeling, but because we only get snippets from Corey's point of view, I really felt like an outsider looking in, trying my best to guess at what Kyra was dealing with. I wasn't made to feel anything, truth be told.
Which leads me to another thing I didn't like in this book: the plot. The plot was so slow, and not much happened. Actually, that's not true. Some potentially exciting things happened, but because they were written in such a bizarre fashion, I had a hard time deciding if Corey was dreaming or hallucinating or what! The only reason I continued reading was because I wanted to find out exactly what happened to Kyra, and when the final twist was revealed, I had to roll my eyes in frustration. I can't believe I read through the entire book for that! It was ridiculous. Honestly, I give up. I can't bring myself to say any more, and I can't in good conscience recommend this book to anyone.
My rating: 1.5 stars