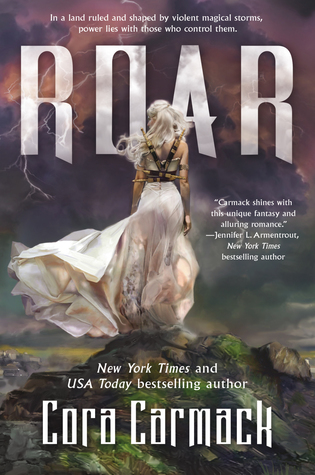 In a land ruled and shaped by violent magical storms, power lies with those who control them. Aurora Pavan comes from one of the oldest Stormling families in existence. Long ago, the ungifted pledged fealty and service to her family in exchange for safe haven, and a kingdom was carved out from the wildlands and sustained by magic capable of repelling the world's deadliest foes. As the sole heir of Pavan, Aurora's been groomed to be the perfect queen. She's intelligent and brave and honorable. But she's yet to show any trace of the magic she'll need to protect her people. To keep her secret and save her crown, Aurora's mother arranges for her to marry a dark and brooding Stormling prince from another kingdom. At first, the prince seems like the perfect solution to all her problems. He'll guarantee her spot as the next queen and be the champion her people need to remain safe. But the more secrets Aurora uncovers about him, the more a future with him frightens her. When she dons a disguise and sneaks out of the palace one night to spy on him, she stumbles upon a black market dealing in the very thing she lacks—storm magic. And the people selling it? They're not Stormlings. They're storm hunters. Legend says that her ancestors first gained their magic by facing a storm and stealing part of its essence. And when a handsome young storm hunter reveals he was born without magic, but possesses it now, Aurora realizes there's a third option for her future besides ruin or marriage. She might not have magic now, but she can steal it if she's brave enough. Challenge a tempest. Survive it. And you become its master.
Thanks to MacMillan-Tor/Forge for the free review copy in exchange for my honest opinion.
I'm going to go out on a limb here and say that this book is one of my top YA fantasy reads ever! I'm not an expert in this category by any means, I'd say I'm still pretty new to the genre, and I have not even read the Harry Potter series, (how's that for a ringing endorsement!) But this book really captured my imagination and kept me enthralled from beginning to end, and I cannot wait to see what happens in the next installment!
World building - fantastic! Characters - also fantastic! Pacing and action - perfect! Steam level - holy smokin' bonfires! (Actually, if you're in the position of being a parent, wondering whether this book would be an appropriate read for your child, I would consider this upper YA, maybe closer to NA. I would not want my 12 year-old daughter reading it, for example. Maybe when she's fifteen or so!) "Roar" has really got everything I'm looking for in order to bestow a five star rating. I finished it months ago, and I still remember certain plot elements and the things that I felt while reading as if it was yesterday. I'll keep this review short and sweet, because honestly, the best thing to do is just read it - and then recommend it to all your friends! And then wait on pins and needles for the sequel!
My rating: 5 stars!