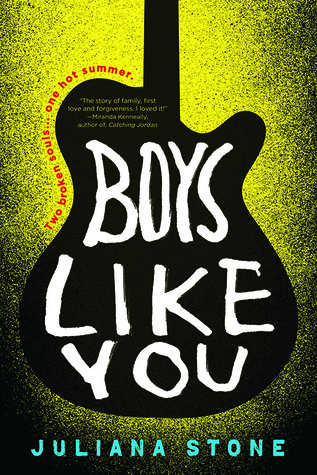 One mistake. And everything changes. For Monroe Blackwell, one small mistake has torn her family apart –leaving her empty and broken. There's a hole in her heart that nothing can fill. That no one can fill. And a summer in Louisiana with her Grandma isn't going to change that… Nathan Everets knows heartache first-hand when a car accident leaves his best friend in a coma. And it's his fault. He should be the one lying in the hospital. The one who will never play guitar again. He doesn't deserve forgiveness, and a court-appointed job at the Blackwell B&B isn't going to change that… Captivating and hopeful, this achingly poignant novel brings together two lost souls struggling with grief and guilt – looking for acceptance, so they can find forgiveness.
Thank you to Netgalley and Sourcebooks Fire for allowing me to read and review an ARC of this book.
"Boys Like You" is very much the story of Nathan and Monroe, but lest you think this is a typical girl-meets-boy kind of story, let me assure you that it's not. The story is told in dual POV, and I liked both main characters equally. Monroe's depression and Nate's guilt are written such that it's easy to empathize with both of them, and while we know right off the bat what Nate's issues are, we are kept in the dark in regards to Monroe's much longer. The mystery behind Monroe's tragedy and the chemistry between Monroe and Nathan is what kept me cruising right through this book.
There are also some side relationships explored here as well - Monroe and her grandmother, Nate and his ex, and then the very complicated relationship between Nate and the family of Tyler, the best friend who Nate put in a coma. (I have to admit I shed a tear or two at one intense scene between Monroe and Tyler's dad!) These interactions add to the overall depth of the book.
This is a good read, but I can't help feeling like I wanted more. More of what, I'm not sure. Some more elaboration on Nate's musical talent would have been nice. Although we're told that music is important to him, and we're told that he can't/doesn't want to play because of how he put Tyler in the hospital, we're not really shown how this is true. It almost seemed like football was just as important to him as music. I also would have appreciated an ending that wasn't quite so neat and tidy. But still, "Boys Like You" is worth a go if you're looking for a romantic YA contemporary read. Perfect for summer!
My rating: 3.5 stars