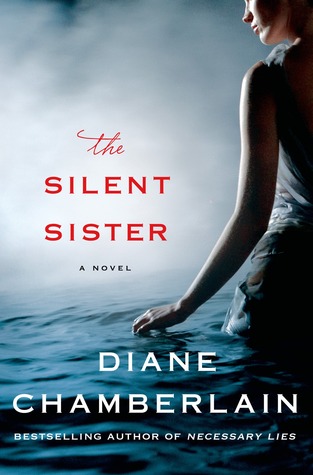 In The Silent Sister, Riley MacPherson has spent her entire life believing that her older sister Lisa committed suicide as a teenager. Now, over twenty years later, her father has passed away and she's in New Bern, North Carolina cleaning out his house when she finds evidence to the contrary. Lisa is alive. Alive and living under a new identity. But why exactly was she on the run all those years ago, and what secrets are being kept now? As Riley works to uncover the truth, her discoveries will put into question everything she thought she knew about her family. Riley must decide what the past means for her present, and what she will do with her newfound reality, in this engrossing mystery from international bestselling author Diane Chamberlain.
Thank you to Netgalley and St. Martin's Press for allowing me to read and review an ARC of this book in exchange for my honest opinion.
I've heard of Diane Chamberlain and have even purchased one of her previous books, but have never read anything by her. Now I think it's safe to say that I've found a new go-to author! This was just the book I was needing to read right now - high on mystery and real human behaviour, low on teen angst and romance. Not saying I don't love those latter qualities in books, just that sometimes I feel the need to switch up the pace and read something a bit more refined and mature. Makes me feel intelligent!
I can't imagine what it would be like to be Riley. She has an awful lot on her plate as far as organizing her father's affairs after his death. Meeting with a lawyer, reading the will and complying with his wishes, selling the house and property...it would all be overwhelming to me. She's doing it all alone, too. Her mother has already passed away, her brother Denny is an absolute mess, and she's just gone through a break up so has no spouse to help her out. Then to top it all off, a couple that knew her father well keep dropping hints that things are not how she always believed them to be. In Riley, Chamberlain gave me a character that I could easily empathize with.
Eventually, Riley comes to the realization that the sister she thought had committed suicide is in fact alive. I really love how at this point, Chamberlain is able to weave Lisa's and Riley's stories together. The author seamlessly took me into the past, when Lisa first disappeared and needed to create a new identity to stay hidden, and then back to the present where Riley was trying to piece together all the whys of Lisa's circumstance. I had questions throughout the novel, and while the answers to these questions were revealed in the end, the uncovering was drawn out enough to keep the mystery fresh in my mind. It made this book un-put-downable!
My rating: 4 stars