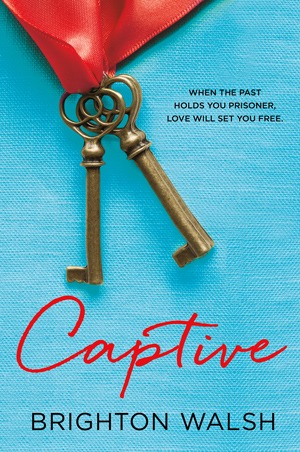 He's the most dangerous man she's ever met…and she's falling in love with him. Madison Frost is desperate to escape her life. Daughter of a prominent businessman, she has everything a girl could ask for. Except for a family who's present in her life, and anyone to talk to outside the four walls of the prison she calls home. Madison dreams of one day leaving her life behind. She never thought being kidnapped is how it would happen. Now she's being held captive by a man who's as frightening as he is sinfully gorgeous. Enormous, muscular, and filled with secrets, the man they call Ghost is an enigmatic mercenary, and Madison is trapped with him. She doesn't know who hired him or why, but the more time she spends at his mercy, the more she realizes he's not what he seems. Beneath his rough exterior lies an unexpected gentleness and a heart as broken and battered as her own. But as Madison lets down her walls, Ghost holds tight to his, hiding secrets that could destroy everything.
Thank you to St. Martin's Griffin for the free review copy in exchange for my honest opinion.
Did I like this book?
You know, I wasn't too sure if I would like this book, simply based on the premise. The whole falling-for-your-captor scenario can be hard to pull off, and many times it comes across as plain unbelievable to me. I was sceptical, but because I'd heard rave reviews for this author, I thought "Captive" could be worth a shot. And despite a few problems I had with the book overall, I ended up being pleasantly surprised with how much I did enjoy it. I was able to empathize with both Madison and Ghost, and Walsh seemed to easily pull me into both their heads and their world.
I really liked that there was no immediate attraction between the two main characters. Instalust in this case would probably have me throwing the book at the wall! Madison was petrified of Ghost at first, and rightly so. I thought this initial introduction of characters and their situations to the reader as well as each other was quite well done. However, I did think that the romance between them developed a bit too quickly, and that is one of my (few) gripes. I would have liked to see a bit more tension leading up to that first kiss.
My other gripe is with the ending. I thought things were tied up a bit too neatly, and I honestly didn't believe the villain's motivations. I think a bit more background was needed for me to really buy into why the villain resorted to such drastic means, as well as a bit more information surrounding the whole kidnapping. I don't know if I missed something there, but I was left a bit confused.
Will you like this book?
Well, I think if you like New Adult as much as I do, you will probably like this book. I loved the excitement, danger, and suspense that was added to this story in addition to the romance, and I think those things make this book/series stand out from some of the others.
Will I read more by this author?
Already I have "Exposed" on my TBR, and I can't wait to dig in! Riley was introduced briefly in "Captive" and I have to say that I'm intrigued by him. It will be interesting to see where Walsh takes this series in the future.
My rating: 3.5 stars