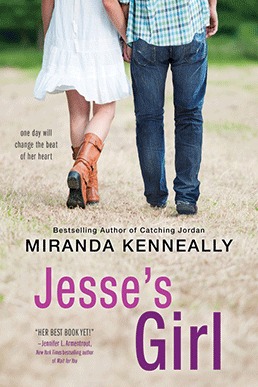 Everyone at Hundred Oaks High knows that career mentoring day is a joke. So when Maya Henry said she wanted to be a rock star, she never imagined she'd get to shadow *the* Jesse Scott, Nashville's teen idol. But spending the day with Jesse is far from a dream come true. He's as gorgeous as his music, but seeing all that he's accomplished is just a reminder of everything Maya's lost: her trust, her boyfriend, their band, and any chance to play the music she craves. Not to mention that Jesse's pushy and opinionated. He made it on his own, and he thinks Maya's playing back up to other people's dreams. Does she have what it takes to follow her heart—and go solo?
My thanks to Sourcebooks Fire via Netgalley for the free review copy in exchange for my honest opinion.
Did I like this book?
I seriously loved this book! It was exactly what I needed at this moment - the spunky characters, music industry setting, romance, all were perfection in my eyes. Nothing was overdone or too cheesy, either, which is something I was scared would happen when I read the synopsis. I should not have doubted Kenneally's writing, however, as she pulled it off without a hitch!
Maya, wow, this girl is just so cool! I loved her sense of style, her sass, her confidence, and her vulnerability. She is an all around, fabulous character, and I almost want to say role model, but can a fictional character be a role model? Not sure, but whatever. She makes mistakes, and she's not always comfortable with her choices, but she always tries to stay true to herself.
Then there's Jesse. Hmmm, this guy will rub you the wrong way in the beginning, as he did Maya, but have no fear, he will be redeemed! I couldn't help but fall for him, he's just that awesome!
Will you like this book?
Damn rights! This is one of my favourite books of the year, so if you like Contemporary YA, I don't see why you wouldn't like it - it's got everything we love about this genre, plus that extra something that makes Kenneally's books so special! Dare I call it "magic"? So yeah, highly recommended, go buy it right now, tell them Roxy sent you - you won't get any money off, and people might look at you funny, but what the hell, right?
Will I read more by this author?
Well, if you couldn't tell by now, the answer is yes! "Breathe, Annie, Breathe" was fabulous, too, so Miranda Kineally has now been bumped up to the top of my "Auto-Buy" list. (Since I've only just created said list at this very moment, it is quite exclusive!)
My rating: