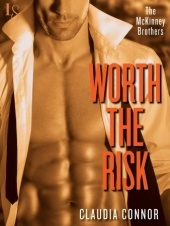 When a McKinney brother falls in love, powerful emotion and overwhelming desire are never far behind. Two hearts locked away . . . Hannah Walker spends her days coaching children through injury and trauma, one therapeutic horseback ride at a time. She knows all too well how violence can change a child and leave scars that never heal. It's easy for her to relate to the kids; what isn't easy is the thought of facing her own harrowing past. Millionaire playboy Stephen McKinney could use a little coaching himself. Five years ago he encountered his most horrible nightmare—and the nightmare won. No matter what he achieves, nothing can make up for that awful night . . . or so he believes. Both desperate for a second chance . . . Stephen is used to getting what he wants. And he wants Hannah. So when she turns him down, he's intrigued. What he doesn't know is that her secrets will lead him to a place he never wanted to go again . . . to a side of himself he's tried to forget . . . a side that would scare Hannah away from ever loving him. Now his only chance to win her trust is to bare his soul, risking everything he tried so hard to protect. Includes a special message from the editor, as well as an excerpt from another Loveswept title.
Thanks to Random House Publishing - Loveswept via Netgalley for the free review copy in exchange for my honest opinion.
Did I like this book?
It's been a while since I read this one, and I should have written a review earlier (smacks hand, bad blogger!) but I remember really enjoying "Worth the Risk"...except for one thing, which reeeeeally irked me, and unfortunately it would spoil the plot for prospective readers if I said what it is, so I'll just have to leave it at that.
But yeah, I did like this book, quite a lot, and more than "Worth the Fall", the first book in this series, which I also enjoyed. The characters are probably what drew me in the most - I liked both main characters, and there were many great moments between the two of them. There was also a bit of mystery surrounding each of their backstories, which was something that kept me flipping the pages.
Will you like this book?
If you're looking for a steamy contemporary romance with fabulous characters and a fast-paced plot, then look no further than this series! I think most romance readers will really enjoy it.
Will I read more by this author?
I really like Claudia Connor's writing style, and although I had that one (significant) issue with the book, it seems like she's only getting better with each subsequent read. I'll definitely be keeping her on my radar!
My rating: 3.5 stars