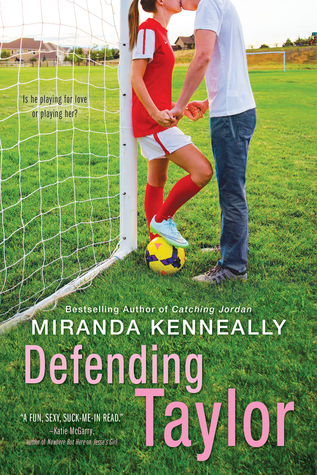 Captain of the soccer team, president of the Debate Club, contender for valedictorian: Taylor's always pushed herself to be perfect. After all, that's what is expected of a senator's daughter. But one impulsive decision—one lie to cover for her boyfriend—and Taylor's kicked out of private school. Everything she's worked so hard for is gone, and now she's starting over at Hundred Oaks High. Soccer has always been Taylor's escape from the pressures of school and family, but it's hard to fit in and play on a team that used to be her rival. The only person who seems to understand all that she's going through is her older brother's best friend, Ezra. Taylor's had a crush on him for as long as she can remember. But it's hard to trust after having been betrayed. Will Taylor repeat her past mistakes or can she score a fresh start?
Thank you to Sourcebooks Fire via Netgalley for the free review copy in exchange for my honest opinion.
If Miranda Kenneally was not one of my go-to authors before, she definitely has proven herself to be on that list after this latest effort! "Defending Taylor" was everything I crave in a contemporary young adult read.
Taylor, or Tee, as her friends and family call her, is a wonderful character. I love how she's made a pretty massive mistake but she's willing to pay the consequences. Hundred Oaks doesn't really welcome her with open arms, but she sucks it up and joins the soccer team and makes a sincere effort to make some new friends. She also comes up with some pretty scathing comebacks when people try to cut her down, and I absolutely adored that feisty side to her.
And then there's Ezra! Le sigh...he is lovely! Nobody writes male characters like Kenneally, and if you've ever fallen for any of her boys in the past, then no doubt you are going to love Ezra! The only downside is that I wanted more. As this book is written from Tee's point of view, we get an up close and personal look at the inner workings of her mind. Unfortunately, we don't get the same perspective from Ezra, and I wanted to know more about his life and his thoughts and his family and...just everything! Maybe one day, fingers crossed, Kenneally will give her fans a story from the male perspective. That would be stellar!
What else can I say about this book? Here are a bunch of things I liked/loved about this book:
There are some great female friendships displayed, previous and new to Tee.
I loved the dynamics of Tee's new soccer team, and how Tee ended up leading by example for everyone, including her coach.
The relationships Tee has with each individual family member are also explored, and I especially enjoyed the interactions she had with her dad.
We also get a glimpse of some of the other characters from the Hundred Oaks series, but I'm not going to spoil it by telling you what they're all up to!
The way Kenneally wrote about the pressures Taylor was facing was just wonderful! I remember what it was like to be a teen, wanting to do well in school and gymnastics, and feeling like I was letting people down if I didn't perform well, but I didn't have the media watching my every move or a senator for a father! The way this book is written, you will feel like you are walking in Taylor's shoes, even if you've never been a perfectionist or had the eyes of the whole world on you.
And that about sums up my gushing, at least until the next book in the series. Wait, there's going to be another book, right? Please, please, pretty please...
My rating: