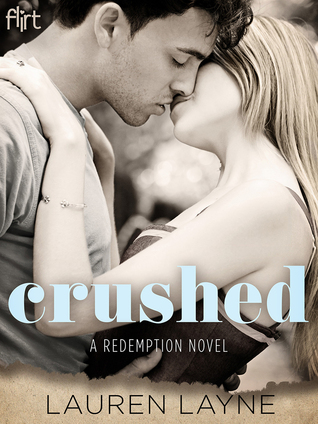 Lauren Layne's latest novel about the healing power of redemption tells the story of a crush gone wickedly wrong, proving that what you want isn't always what you need. Growing up in New York, Michael St. Claire never expected to spend his twenties wearing cowboy boots. But that was before he learned about his real father, a total stranger with a family in Cedar Grove, Texas. Once in the Lone Star State, Michael meets Kristin Bellamy, who is exquisitely refined and everything Michael always thought he wanted in a woman. The only problem is that Kristin is dating Michael's new half brother, Devon. Kristin's mouthy, curvy sister Chloe has always been in love with Devon Patterson. So when Michael offers to help Chloe break up Devon and Kristin, Chloe agrees to a deal that seems too good to be true. Before long, Chloe finally gets her man, only to make a startling discovery: She no longer wants the guy she had to fight for—she wants the one who stood by her side. After all he and Chloe have been through, Michael swears he's damaged goods. Can Chloe convince him that love is worth the risk?
Thank you to Penguin Random House/Flirt Publishing for the free review copy!
Once upon a time, I read this book with every intention of giving a review right away. And then, something happened, I think along the lines of my computer was completely dead, and writing a review via phone was a little bit more difficult than I'd expected, and this poor review was placed on the back burner. So, probably a year after I first read "Crushed", I decided to go back and read it over. And you know what? To my surprise, I enjoyed it even more the second time around!
Out of the three books I've read in this series, I'd have to say that "Crushed" is my favourite! And yes, it does surprise me to say this because I wasn't expecting to like Michael at all. And really, how are you supposed to like a romance novel if you can't stand the hero? Michael St. Claire is one of those guys who knows exactly how good he looks, and he knows how to work that to his advantage in order to get what he wants. He's also lived a very privileged life, getting everything his heart desired with little to no effort on his part. Until Olivia, that is. Olivia is the heroine of the previous book in this series, and Michael always felt he loved her. Unfortunately, Olivia was together with Michael's best friend, Ethan, so Michael kept his true feelings hidden until that fateful day when things blew completely apart for everyone.
To make a long story short, Michael feels guilty about many things, and his behaviour, while on the surface seems self absorbed and focused on revenge, ultimately is based on his fear of rejection and his dwindling self worth. He hates himself, and after he grew on me a bit, it was really sad to see. I totally felt for the guy, dammit, and I normally can't stand guys like him! It was a bit disconcerting, to say the least.
And then there's Chloe. Chloe is something else, I've gotta admit. I don't think I've ever seen another heroine like her, and I absolutely loved her from the first moment! I loved the banter between her and Michael, and how they really didn't like each other at first, and how they developed a strong friendship over time. No insta-love here, folks! The best part, though, is how Michael gradually helps Chloe build her self-esteem and confidence. Chloe knows she's smart, and kind, and has more substance than her sister, Kristin, but she also uses her sarcasm and snark to cover up her perceived inadequacies. She definitely has more in common with Michael in that regard than she realizes.
Although the plot was somewhat predictable, it did not take away my pleasure in reading it. If you've read the synopsis and found yourself thinking, "Been there, done that", think again, because Layne takes what has worked for readers in the past and makes it fresh and original with her strong characterizations. "Crushed" is such a fun read, and I absolutely recommend it to any fans of the New Adult genre looking for a little more substance than the norm.
My rating: