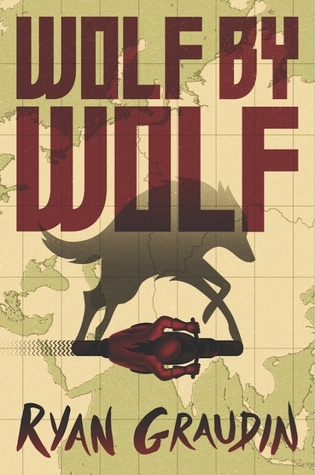 Her story begins on a train. The year is 1956, and the Axis powers of the Third Reich and Imperial Japan rule. To commemorate their Great Victory, Hitler and Emperor Hirohito host the Axis Tour: an annual motorcycle race across their conjoined continents. The victor is awarded an audience with the highly reclusive Adolf Hitler at the Victor's Ball in Tokyo. Yael, a former death camp prisoner, has witnessed too much suffering, and the five wolves tattooed on her arm are a constant reminder of the loved ones she lost. The resistance has given Yael one goal: Win the race and kill Hitler. A survivor of painful human experimentation, Yael has the power to skinshift and must complete her mission by impersonating last year's only female racer, Adele Wolfe. This deception becomes more difficult when Felix, Adele twin's brother, and Luka, her former love interest, enter the race and watch Yael's every move. But as Yael grows closer to the other competitors, can she bring herself to be as ruthless as she needs to be to avoid discovery and complete her mission? From the author of The Walled City comes a fast-paced and innovative novel that will leave you breathless.
Thank you to Little, Brown Books for Young Readers via Netgalley for the free review copy in exchange for my honest opinion.
I actually waited a while to read this book, even though I'd read and loved "The Walled City" by this author previously. I think the idea of the whole skinshifting thing weirded me out a bit. I'm just not that into the whole paranormal genre like I used to be, and the title, "Wolf by Wolf", made me think of werewolves, and yeah, ugh. But, I can tell you that once I got started reading this book, I had a hard time putting it down, and the paranormal element did not deter me one bit!
Um, wow? Can that one word sum up the reading experience that is "Wolf by Wolf"? Doesn't really seem to do it justice. It is unlike anything I've read before - the setting in an alternate history, the heroine who can be anyone she wants, and is trained to kick some serious butt, and an extreme motorcycle race, where anything can happen at any time, and does! I thought this book was just so cool!!! I'm hoping lots of people will feel the same way I do, and I can't wait until my eldest daughter can read it and we can compare notes.
I'm really stoked to read the next book in this series, because I just have to find out what happens next! I really have no idea what direction the author will go with this story, but I'm hoping for more crazy twists and turns. And as far as the romantic aspect? Again, it could go any way or no way, I don't even care, as long as I can find out what happens!!!

My rating: 4.5 stars