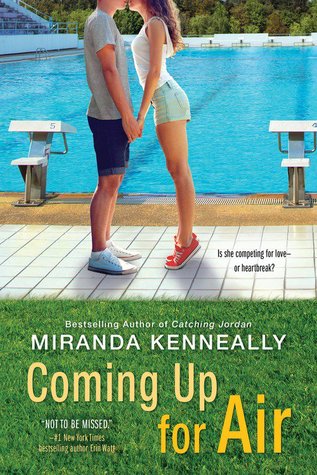 Swim. Eat. Shower. School. Snack. Swim. Swim. Swim. Dinner. Homework. Bed. Repeat. All of Maggie's focus and free time is spent swimming. She's not only striving to earn scholarships—she's training to qualify for the Olympics. It helps that her best friend, Levi, is also on the team and cheers her on. But Levi's already earned an Olympic try out, so she feels even more pressure to succeed. And it's not until Maggie's away on a college visit that she realizes how much of the "typical" high school experience she's missed by being in the pool. Not one to shy away from a challenge, Maggie decides to squeeze the most out of her senior year. First up? Making out with a guy. And Levi could be the perfect candidate. After all, they already spend a lot of time together. But as Maggie slowly starts to uncover new feelings for Levi, how much is she willing to lose to win?
Many thanks to Sourcebooks Fire via Netgalley for the free review copy of this book in exchange for my honest opinion.
Another winner from Miranda Kenneally! This one has all the elements you know and love from her Hundred Oaks series: a strong, feisty heroine working through an internal struggle, great friendships, cameos from some of the well-loved characters we've met earlier in the series, and an amazingly swoony love interest. What more could a fan ask for?
I loved Maggie's struggles in this book. (Oh yeah, and the seriously embarrassing moments she has put a huge grin on my face while reading!) She's got a few things weighing on her mind, including but not limited to:
an intense rivalry with an ex-teammate and the online bullying she's subjected to
occasionally driving a car, which she is extremely horrible at!
college, mainly how she's going to miss her friends when they all go to different schools
getting some experience with boys, and how to do such a thing when she has no time to start a relationship
trying to improve her times so she can get herself to the Olympic trials, and
dealing with her changing feelings for her best friend, Levi.
I absolutely loved Maggie's friendship with Levi! It was somewhat reminiscent of Jordan and Sam from "Catching Jordan", which is further emphasized when Jordan, or Coach Woods as she's now known at Hundred Oaks High, gives Maggie some advice about balancing her heavy training schedule with a social life, namely, dating. Maggie and Levi spend almost all of their time together, and have since they were little kids, so they're super comfortable with each other. Honestly, there's not much I would have changed about their relationship or their story. If anything, I just wanted more!
If you're not already a Kenneally reader, then you seriously need to remedy that right away. All of her books are great, and I'd be hard pressed to pick a favourite, but "Coming Up for Air" is definitely one of my top picks!
My rating: 4.5 stars