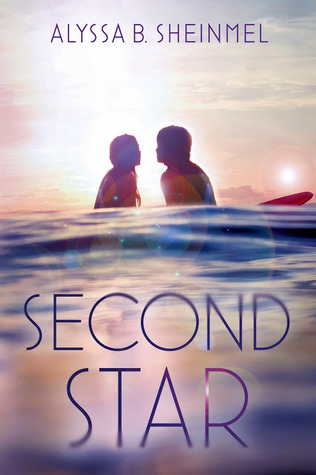 A twisty story about love, loss, and lies, this contemporary oceanside adventure is tinged with a touch of dark magic as it follows seventeen-year-old Wendy Darling on a search for her missing surfer brothers. Wendy's journey leads her to a mysterious hidden cove inhabited by a tribe of young renegade surfers, most of them runaways like her brothers. Wendy is instantly drawn to the cove's charismatic leader, Pete, but her search also points her toward Pete's nemesis, the drug-dealing Jas. Enigmatic, dangerous, and handsome, Jas pulls Wendy in even as she's falling hard for Pete. A radical reinvention of a classic, Second Star is an irresistible summer romance about two young men who have yet to grow up--and the troubled beauty trapped between them.
Thanks to Netgalley and Macmillan Children's Publishing Group for allowing me to read and review an ARC of this book.
I really enjoyed this book while I was reading it - I read it straight through with barely a break! But when I finished, I found myself asking some interesting questions, like:
What was the point of this? Answer: I don't know.
If "Second Star" wasn't based on "Peter Pan", would I have liked it at all? Answer: Probably not.
And finally, if Jas was based on Captain Hook, what was Wendy doing falling in love with him? (Don't get me wrong, I rather liked Jas, but it did seem a bit strange and rather quick for Wendy to bounce from Pete to him.) Answer: Again, I don't know.
I really have to give props to author Alissa B. Sheinmel, though. The writing was fluid and lovely, and I could clearly picture the world she created. The whole premise behind this book is pretty amazing, too. If you have any interest in fairytale retellings at all, you can't go wrong with "Second Star".
My rating: