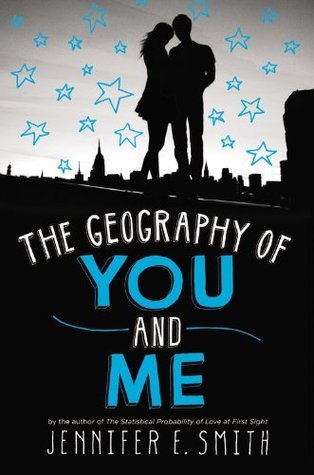 Lucy and Owen meet somewhere between the tenth and eleventh floors of a New York City apartment building, on an elevator rendered useless by a citywide blackout. After they're rescued, they spend a single night together, wandering the darkened streets and marveling at the rare appearance of stars above Manhattan. But once the power is restored, so is reality. Lucy soon moves to Edinburgh with her parents, while Owen heads out west with his father. Lucy and Owen's relationship plays out across the globe as they stay in touch through postcards, occasional e-mails, and -- finally -- a reunion in the city where they first met. A carefully charted map of a long-distance relationship, Jennifer E. Smith's new novel shows that the center of the world isn't necessarily a place. It can be a person, too.
Thank you to Netgalley and the publisher for allowing me to read and review an ARC of this book.
I think I must have been in the exact perfect mood to read this book because I really enjoyed my reading experience! I admit this with a certain amount of surprise because when I think back over what happened in this book, there wasn't really a whole lot. This is not an action-packed novel, and there's not even much as far as dialogue between the two main characters. Owen and Lucy only speak in person a handful of times, and the rest of their communication is through one or two sentence postcards until the end of the book, so it's amazing that Smith was able to draw me into this story at all. I should have been thoroughly bored, but found that I wasn't at all!
Owen and Lucy are not very typical characters, and I think that's what I loved most about them. Lucy is very introverted to the point where she doesn't have a single friend. She is happy to be alone and where I would be hesitant to wander around New York City as a fully grown adult, she seems right at home doing so as a teenager. Her parents are often absent, and while it seems at first that they're just too busy to pay much attention to her, eventually we get to see their relationship become much stronger. This was a definite strength of the book, in my opinion.
Owen, on the other hand, is unlike any hero I've ever read. He's super smart, shy and sweet, and all around awesome - I loved him! He has a completely different and new dynamic with his dad, feeling almost like he needs to be the adult in order to get his father through the grief of Owen's mom's death. I really felt for him! I was happy to see their relationship evolve into something more give and take through the course of the book as well.